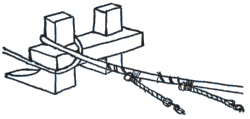 The Bitter End
The Bitter End is the personal website of Steve Monks to record some of the important events from my past and to share some of the things that interest me. This website was founded in 1995 and I am currently redesigning it to include some of the material that was hosted on other servers and to give it a new look, so bear with me while the work progresses.
Bitter End ((nautical): the inboard end of a line or cable especially the end that is wound around a bitt)
I was born and raised in York. At 16 I left home and went to sea as an indentured cadet with British India Steam Navigation Co. (BI). Though BI was amalgamated into P&O in 1972 the ethos of BI lived on for many years afterwards. This can be seen in the posts of the many members of the BI ship group on Yahoo Groups.
Information and picture galleries of the ships I served on for 22 years can be found on My MN Ships page and information about BI can be seen on The BI Pages.
After leaving the Merchant Navy I joined HM Coastguard. I served as a Watch Officer in the Maritime Rescue Co-ordination Centre at Bangor, N.I., as a Sector Manager at Tobermory, Isle of Mull, as a Technical Rescue Trainer at the MCA Training Centre at Highcliffe, Dorset and then in various roles at MCA HQ in Southampton, laterly as Head of Coastal Resources, until I retired in March 2016.
HM Coastguard which, like any organisation, is continually evolving began the rollout of changes for the Future Coastguard project in 2012, this is split into 2 parts, Coastal (dealing with Coastal Safety Operations) and Maritime (dealing with Civil Maritime SAR cordination).

[Disclaimer: These are not official pages maintained by the Maritime and Coastguard Agency or of HM Coastguard. All views and opinions expressed herein are those of Steve Monks, and not necessarily those of the MCA.]
Created: 21st December 1995 - - - - Last Updated: 26th March 2016